It was the night before starting our two-day trek back to Kansas City and I hadn't been able to get out for a solo hike. My wife, knowing how much I love the mountains and how much I would regret not getting out once we were home, gave me the nudge to get up early the next morning and sneak in a hike. Sleeping on the road for a couple weeks had caught up to me. Getting out for a solo was enticing, but my body was tired and we had a long couple days of travel ahead.
By the time I got everything laid out and slipped into bed, it was close to 11pm. My alarm was set for 4am. There wasn't much in me that wanted to get up in a few hours, but I knew the reward would be well worth it. The alarm hurt just as I knew it would. Had I not prepped coffee and a snack the night before, I may have succumb to my body's request to slip back into bed. With my day pack ready to go, there was already so much momentum pulling me out the door. All I had to do was dress, grab my coffee, and walk out the door. Sometimes what we really need is to skip out on sleep and set out on some wild adventure. To test ourselves. Every once in a while, we need a little disruption to shake things up.
Driving into Rocky Mountain National Park, darkness covered the views I knew were waiting right outside my window. The winding road slowly prepared me for what was to come, and the coffee worked out the sleep and transitioned my soul from the responsibilities of dad mode to a few hours of rare solitude and beauty.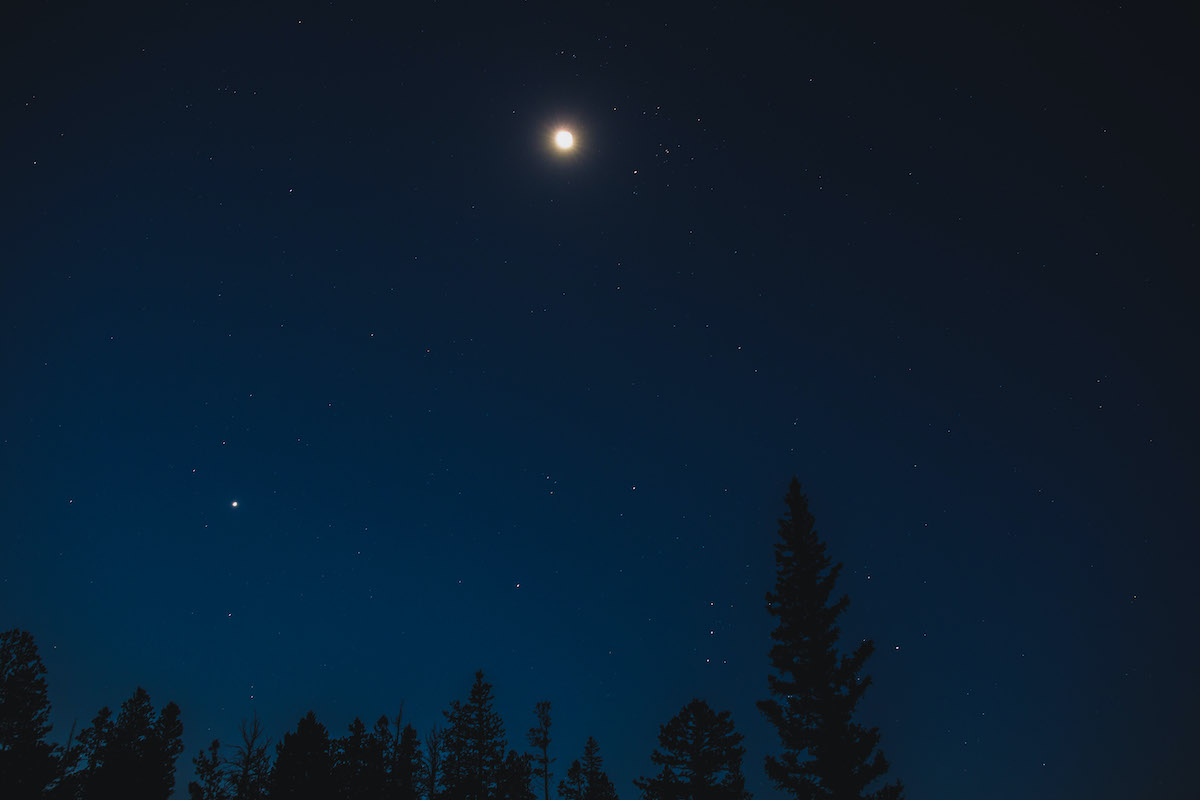 The trailhead parking lot was already half full when I pulled in at 4:45am. Glacier Gorge is one of the more popular starting points in the park, and if you want a parking spot you've gotta get there before 5am. By the time I pulled out my gear and used the restroom (because, backcountry), the lot was just about full.
Headlamp on and a copy of the trail map on my phone, I followed the light of a few other hikers headed in the same direction. The first stretch of trail was pretty dark being under the cover of trees. But as the trail came out into the light of the moon and stars, I almost didn't need a light.
Looking back down the valley I could see an endless stream of headlights winding their way up toward various trailheads. Cars by the 10s and 20s. Had I been another 30 minutes behind, I most certainly would not have been able to get on the trail.
Even in the darkness, the beauty of the Rocky Mountains was breathtaking. The moonlight illuminated the outline of the peaks and ridges for miles. Submerged in the mountain air, the smells of pine and wildflowers were other-worldly — like I had been transported to some eden-like landscape. The trail followed a snow-melt mountain stream that wound its way up the valley.
A few nights prior, I had awoken to the strong smell of charred-smoke — similar to the smell of a campfire, but this was stronger. More of a blackened and burnt campfire. There had been wildfires more than 150 miles southwest of where we were, but depending on the direction of the wind, the smoke would blow for hundreds of miles.
This morning I couldn't smell smoke, but as pre-dawn crept onto the horizon, the smokey-haze illuminated red and orange. Not a typical sun-rise glow, but more of a burnt orange. Like the sky was on fire. It was one of the most beautiful sunrises I've ever seen. Especially as it crept up between rocky peaks.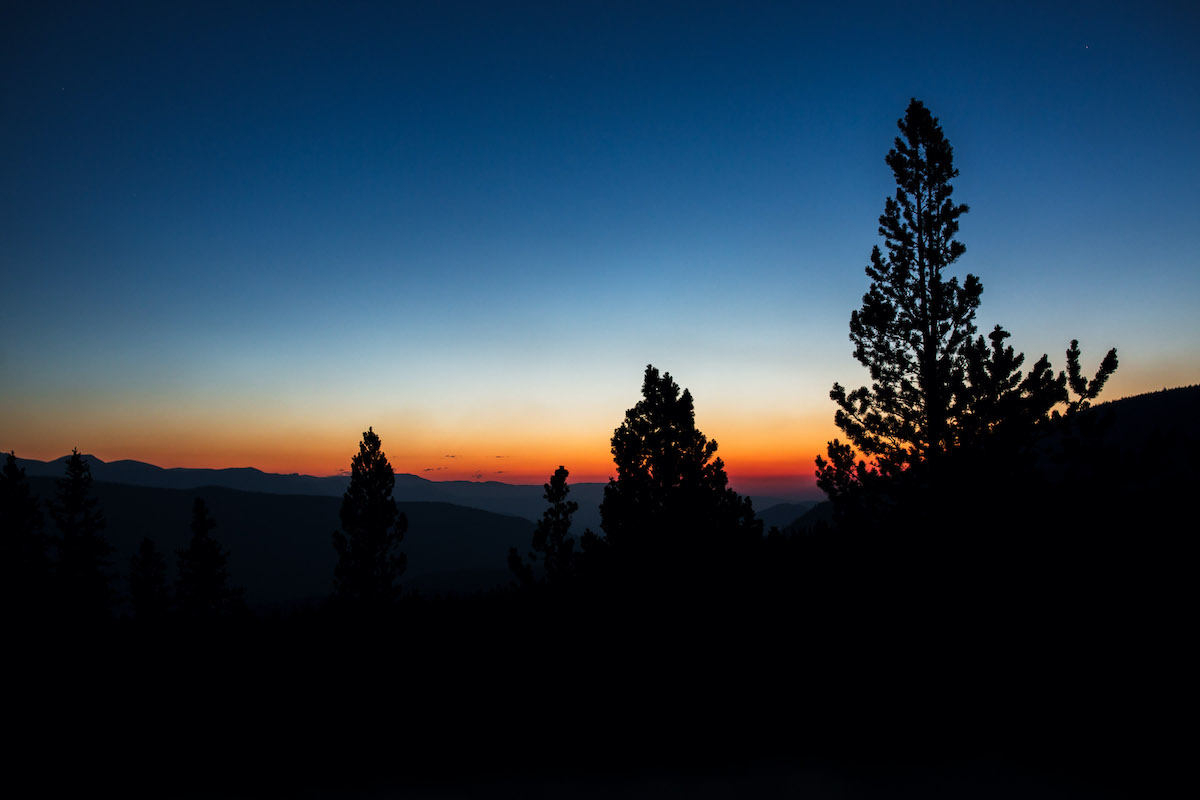 There was a lengthy internal debate the night before as to whether I should bring the nice camera and hike, or, leave the camera behind and trail run. I love trail running and I had the chance to run an epic stretch of trail the week before down south. But the truth is, hiking would take 2 to 3 times longer, and as much as I hate to admit it, it sounded like a waste of time.
Soul care does not move at the speed of productivity, and I knew the pace of hiking and snapping photos was what my soul needed. Would I have enjoyed running up to Sky Pond? Absolutely. But I needed to linger in beauty, not run by it.
As the sun slowly made its way up over the horizon and started to bathe the mountainside in warmth, it was like the cares of 2020 were melting away. Being in nature and beauty has a way of re-orienting our inner life to what truly matters.
Golden hour is every photographers dream. Warm soft buttery light. But now, instead of wishing I could move more quickly up the trail I wished I could stop time. With every passing minute the light changed. I knew the photos I was taking in this moment would look dramatically different in another 10 or 15 minutes. I was still roughly a mile or two from Sky Pond, but the warm light made me want to camp out right where I was.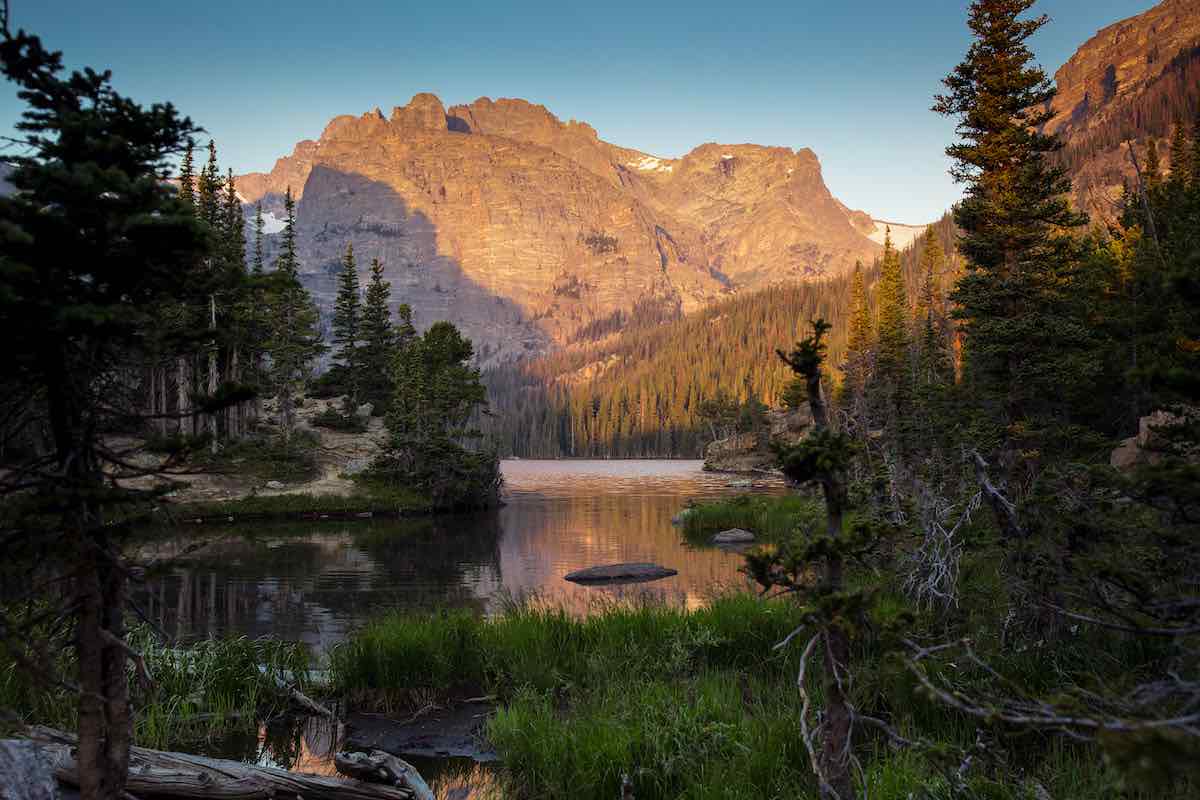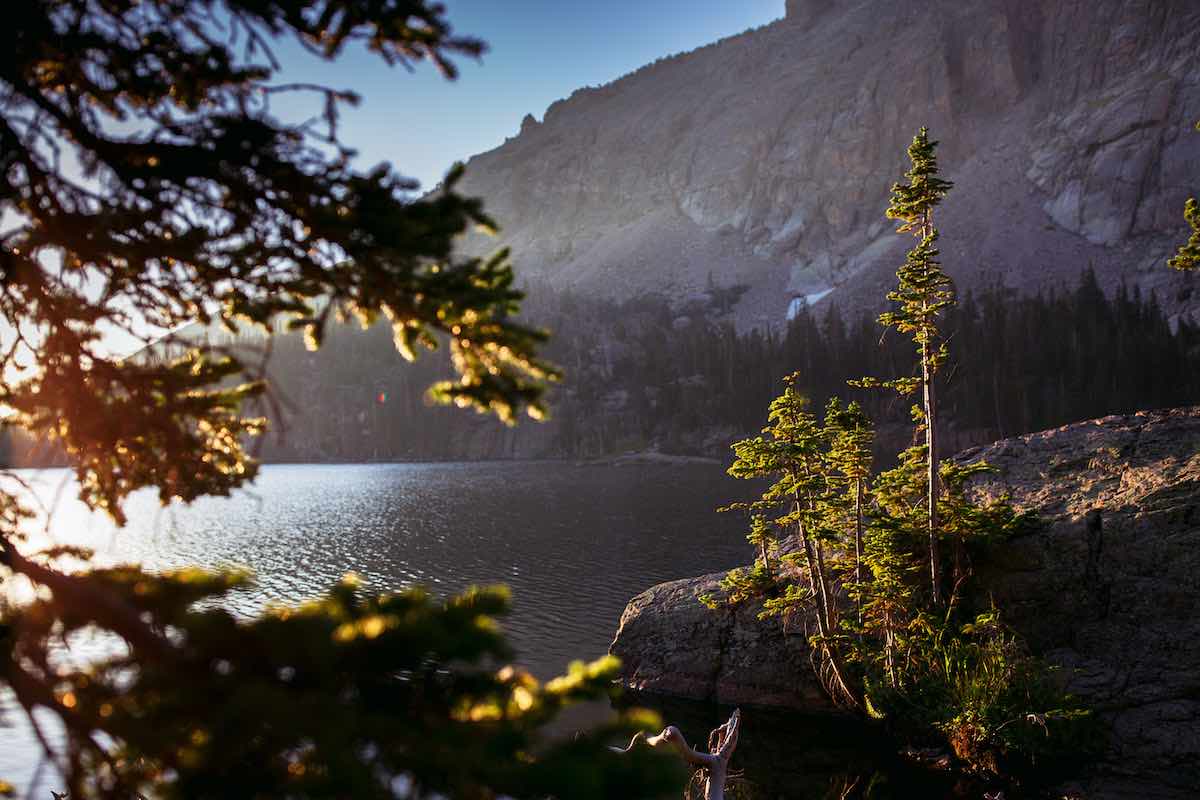 Pulling away, I hiked on allowing myself to enjoy the scent and scenery with every step. It was hard to capture just how serene the solidarity was. Another advantage of starting out early, I hadn't seen another person in hours. I paused a few more times to capture Loch Lake from a few different angles. The sunlight continuing to paint its dramatic color over everything.
Moving up the mountain, the trail continued to steepen. Just as I was approaching treeline, through a grove of aspens I caught a glimpse of an elk maybe 40 yards away. I froze not wanting to startle her. Then turning to look up the trail, I realized I was about 10 yards from another female elk and her baby. I couldn't believe how close they were and how little they seemed to mind my presence. Intent on finding breakfast, they continued grazing down away from the trail to join another five or so elk.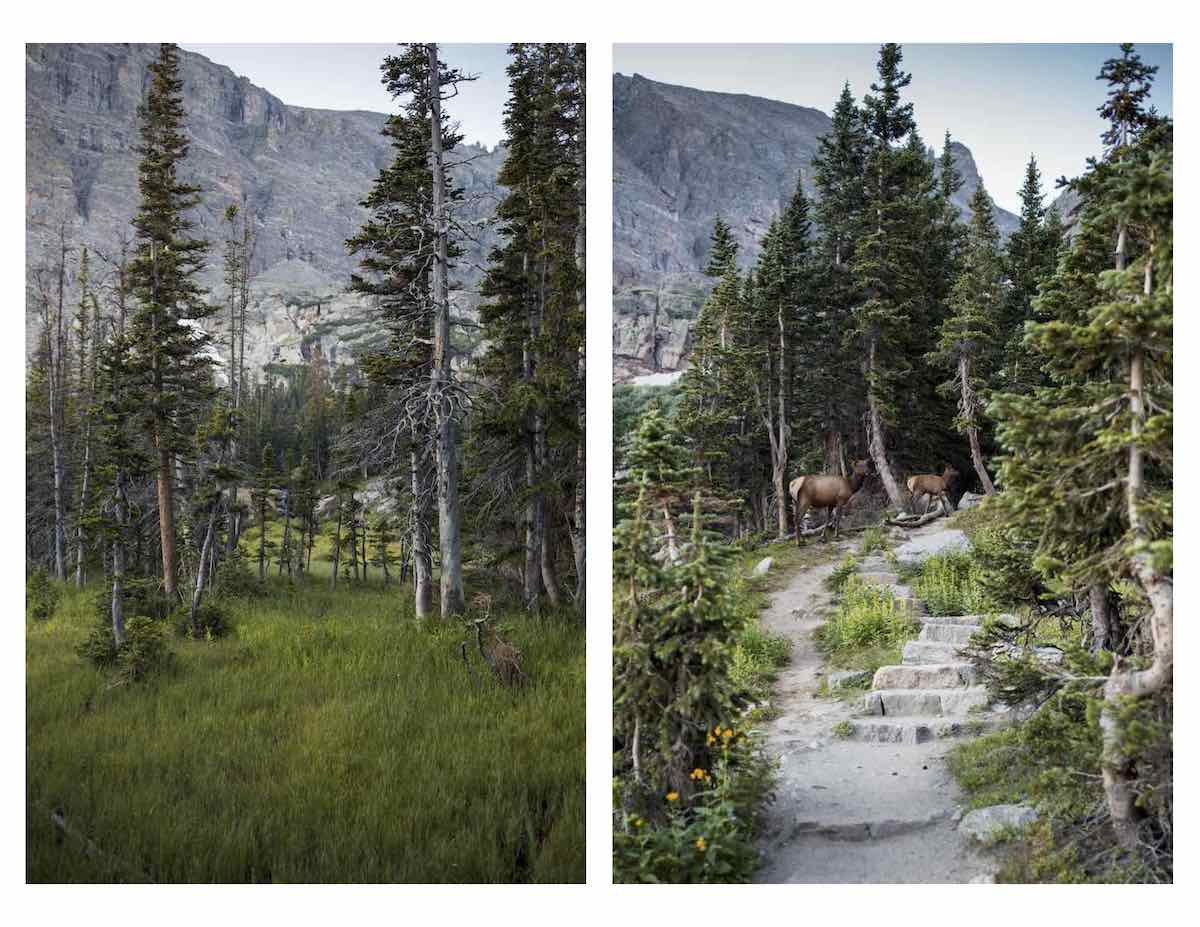 The final stretch of trail goes up and over a small waterfall. A series of streams split apart and branching in and out of the trail. I slowly worked my way up being careful not to tumble back down the rocky slope. Cresting the top of the waterfall, I had the Lake of Glass to myself, which lived up to its name. A calm reflection of the surrounding peaks.
Having hiked up just shy of 11,000 ft., when I stood still it was quite chilly. I pulled on my jacket that I had thankfully packed and sat down to eat my snack. Grateful I'd be heading down for the remainder of my hike, I enjoyed the quiet and views of the valley below.
I was glad to have opted for the slower pace. Even with all the busyness and craziness of life, I could feel a bit of my heart rejuvenated. As it turned out, my wife was right all along. I needed a good hike.
* * *
For the month of September we're doing a 30 day photo challenge. Take a photo a day and share them using the hashtag #fcdailyphoto.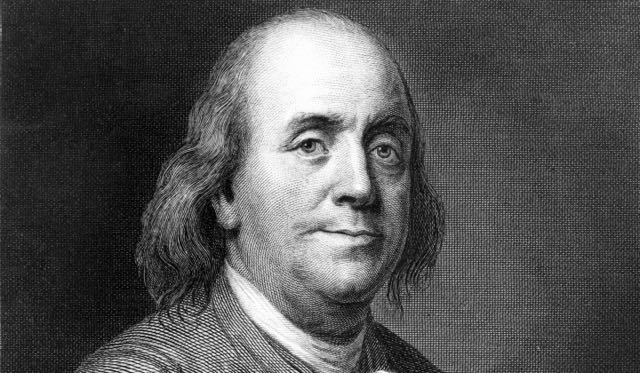 Dost Thou Love Life?
Improve your time and focus with our free, value-packed course delivered over email.