Master Procrastinator?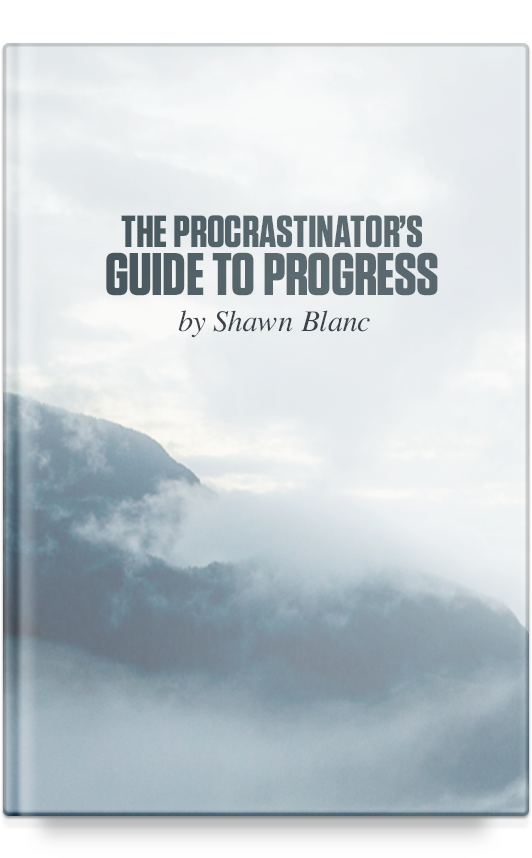 Hey you, with the task list longer than your arm.
It's time to kick procrastination to the curb.
Learn what's feeding your tendency to put things off.
Start making intentional steps in the right direction.
Discover the number one, super-duper important thing that can turn you into an unstoppable force. (I'm totally serious about this one.)
Even learn about the times when you should be listening to your procrastination because it might be telling you something.
All this and more inside just a dozen short sections that cover the areas I have found to be most helpful in my own endeavors to show up every day and do my best creative work.
Over 10,000 people have downloaded this free guide, The Procrastinator's Guide to Progress. And you can, too.
Did I mention that it's short and to the point? (It would have to be when the target audience is guys and gals like you and me who are great at putting things off.)
Get it by clicking the button up above. I hope it proves to be as helpful to you as it has to the thousands of others who have already downloaded it.
This morning I read the Procrastinator's Guide to Progress and it's really good! I love how concise it is and yet packed with the best principles. — Greg
Table of Contents
My Grandmother's Advice (Don't put off to tomorrow what you can do today.)
Why Do We Procrastinate?
Procrastination Robs Us From Doing Our Best Creative Work
Procrastination Left Unchecked Gains Momentum
Regaining Personal Integrity
The Tyranny Of Choice
Honesty, Clarity, And Action
The Daily Plumb Line
Breathing Room For Your Day
The Urgent Vs The Essential
Celebrate Progress
Listening To Our Procrastination
How To Overcome Procrastination
The Moving Target
I've already read this multiple times. This is exactly the kind of thing I strive to consider and focus on… this is the perfect reminder to keep focused on the essential. — Ryan