Ready to get focused in your life and work?
Sign up for the Focus Course Academy.
Do you find yourself saying yes to all the ideas you have and committing to all the various things… only to end up overwhelmed and struggling to make decisions?
Without clarity and focus, we quickly end up stressed and uncertain.
To maintain margin in your life and avoid overwhelm, you have to focus.
Focus is about knowing what you will say no to, so that you can give the proper attention to the things that matter most.
In our experience, we've found that many people are in need of an easy and simple structure they can fall back on…
…something they can lean in to the they need to make difficult decisions about their goals and their schedule.
Registration Opens in September
The next Focus Course Academy begins in September 2021. Sign up below to join the waitlist.
---
Our brand-new Academy format will take you through our popular, flagship productivity training: The Focus Course.
But in the midst of a cohort that will offer hands-on coaching, live training, and real-time community.
All in just 3 hours a week, for one month.
This Cohort structure (which is outlined in more detail below) will give you the skills and tools you need to do the important work that matters, the hands-on coaching to make sure you're doing it right, and the dedicated time to actually get the answers and results you need.
Video: What, Why, and Who
Who is the Focus Course Academy for?
For one, if your life is in a transition — or you can feel that you are on the cusp of transition — then the Focus Course Academy will have profound results for you. This is the fastest process you can go through for getting clear on what your priorities need be and fine-tuning your schedule and your habits.
That said, there are three specific types of folks whom would also have the most to gain by participating in the Academy…
1: Creators and Knowledge Workers
Do you struggle to get in the zone and do your best creative work? Do you wish you had more hours of uninterrupted time? Does it feel as if your schedule is at war with the creative work you are trying to do?
As a creator and knowledge worker, your work ethic is not about the number of hours you put in. Rather, it's about the quality of your focus during those hours. This is a prevalent and constant struggle. We know. We've been there. And we can help.
2: Leaders and Entrepreneurs
When you are struggling to manage your time and focus it's frustrating. It hinders you from doing that which only you can do, and so you're never able to get the traction you need.
In our experience, we've found that most leaders don't need more time (a resource which cannot scale), they need more focus.
As a participant of the Focus Course academy, entrepreneurs and leaders will walk away with a clear framework they can use on a daily and weekly basis to free up their time and improve their focus, ensuring they are giving their attention to that which only they can do.
3: Productivity Nerds
The Focus Course offers a unique and highly-effective framework for how to manage your time, build habits and routines, and set goals.
We find that most productivity advice is directed toward the superficial. Which is why we do things upside down, placing significant emphasis personal integrity and clarity of your core values.
As someone who is already familiar with productivity, you already know how to wrangle your calendar and task list. Which means you are primed to experience a massive and sustained improvement to your own productivity systems thank to the fresh ideas you will get during the Focus Course Academy.
But wait! Who ELSE is the Academy for?
The burnt-out, overloaded, and overworked.
The master of procrastination.
Those who are tired of fizzling out.
Clever folks who know that focus is the superpower of the next decade and they want to get ahead.
The person who is stuck in the chaos and doesn't even know where to start.
Those who are frustrated at how little time they are spending on the things they value.
If you can show up, the Academy can take care of the rest.
---
Alumni Testimonials
David Sparks, lawyer and podcast host
Jenette McEntire, non-profit director
Darren Prince
Hollie Garcia, busy working mom
Mo Bunnell, Founder of Bunnell Idea Group
Topics that we will cover
We will go in-depth on the following topics and issues:
The 5 Components of a Focused Life: The core framework of The Focus Course.
Schedule-Value Fit and how to spend your time on more of the right things more often.
The 8 Laws of Focus and how to leverage them to your advantage.
What motivates you: balancing the roles in your life with your core values, and drafting out your life's mission.
Personal Integrity: Your internal muscle that gives you the ability to keep commitments to yourself and follow through with your goals and routines.
Success Strategies: How is it that focused people get (most of) the right things done day after day (most of the time)? (Hint: We don't get it perfect every day all the time. But we have a way to stay on track, even when we lose motivation or have a bad week.)
The invisible connection between your big, desired outcomes and your small, daily actions. (And where to put your attention so that you don't get stressed out, frustrated, or anxious.)
Margin: How to shift from overloaded to breathing. The necessity of breathing room and margin, and the only two approaches that work to restore it.
Shawn's simple task and time management approach that keeps you on track and can work with any type of app, tool, or schedule.
The Focus Flywheel: The 4 steps of both the virtuous and the negative expressions of this flywheel, and how to use it for every area of your life in the big projects down to the small tasks.
Academy Curriculum
Below is an overview of the main sections within the course. I will personally be leading you through these sections each Monday, starting May 10. We will cover two sections each week.
1: The Components of a Focused Life
The whole is greater than the sum of the individual parts. These five components make up the core framework of The Focus Course. You will discover what each component is, how they tie together, and then how to use them as a tool for diagnosing and solving problems related to your habits, schedule, tasks, goals, and motivation.
2: Your Life's Mission
Over the years, we've developed a brilliant approach to crafting your life's mission. Instead of leaving you with a blank sheet of paper and expecting you to pull something out of the air, we have a systematic approach that helps you easily identify the most important areas and then funnel that into our template. From there, you get to refine and edit.
3: The Laws of Focus
The primary expressions of focus in our life are: (a) the attainment of focus in the form of a clear vision and priorities; and (b) the skill of focus in the form of our ability to direct our attention on to that which matters. As such, there are 8 Laws of Focus which you can leverage to help you get and stay clear, and also to follow through on doing the important work that matters.
4: Goal Setting (Big and Small)
You will identify life goals for each of the 6 major areas of your life and discover how your small actions tie in to the larger desired outcomes you have.
5: Your Habits
As F.M. Alexander says, "We do not decide our future. We decide our habits, and our habits decide our future." If you want to change your life, you have to start with your daily actions. You cannot control the outcomes of your life, you can only control the effort you put into your daily actions. Which is why you'll find that our approach to connecting your habits to your goals is liberating.
6: Time Management and Your Ideal Schedule
Managing your time is unto something. That "something" is the living of life. How you spend your time is, quite literally, how you are living our life. In this section we will discover how to reduce your commitments and priorities and how to establish time in your schedule for doing the things that you value.
7: Overcoming the Obstacles
Any great endeavor will elicit resistance. We've identified 7 main areas of resistance, what they are, and how you can overcome them so as not to get derailed.
8: A Life with Margin
Margin is a necessary component of a focused life. Do you have the breathing room, health, and strength you need in order to lean into each area of your life? Margin exists for relationships and thus it enables you to be present for your most important roles in life
9: Your Focus Declaration
I don't want to spoil anything. But this is something that I've never seen anyone else do. As you go through the Academy, you are going to be exploding with ideas, possibilities, dreams, and energy. It's a very fun and exciting process. BUT…. if you try to do it all right away, then you will not get the results you want. And so you have to simplify. Not only do we help you simplify and focus, but the whole process is amazing and unique… You are going to love it.
—
The training you will get in the Academy is our latest and greatest.
Since I created the online version of the Focus Course in 2015, there have been several new frameworks and templates that we've developed and added. Not to mention some significant updates to the training material itself.
Over the years with The Focus Course, as I have done live workshops, presentations, corporate trainings, and more, we have had many opportunities to mature, simplify, and refine the things we teach.
What is The Focus Course Academy like?
The Academy format is designed so you can:
Have the dedicated time you need in order to go through the material (instead of this being one more thing that collects dust).
Get the hands-on coaching you need to help you implement it and get results.
Participate alongside a community, thus improving accountability, motivation, and enjoyment of the material.
Specifically, the Academy format looks like this:
A 4-week live-online training through our flagship productivity course (The Focus Course).

Zoom calls every week for teaching, group coaching, and hands-on Q&A with our team to help you implement the material in the best way.

Interact with and learn from other leaders, creatives, and productivity nerds; glean from what is (and is not) working for them; hear their stories.

Private Slack community for ongoing feedback and dialog with cohort members as you work through the material, set goals, improve your schedule, build new habits, etc.
A few photos from one of our in-person workshops. Though the Academy will be held virtually, via Zoom, the training will be just as awesome.
Group Cohorts are Awesome
When you have the opportunity to work through the material alongside other people, you'll be amazed at how much more clarity you will get from the group.
There is far more accountability and breakthrough that you get (compared to going it solo) when you are able to share, learn, and hear from like-minded folks who are all working through the material together at the same time.
This can even become a competitive advantage for you in your career. By gleaning from other professionals you can apply their unique insights in a way you wouldn't have thought of otherwise.
Why Should You Attend Focus Course Academy?
Save time and finish! If you've ever struggled to start and/or complete an online course, then you know just how powerful a dedicated workshop with community can be. Come join us and let's get through The Focus Course together!

By joining us for the Academy, you will have dedicated time blocks set aside to go through the material. And you will be part of a community of folks working through it together — thus increasing motivation and accountability. You are guaranteed to walk away with more focus and maximum clarity.

Work through the material with a community. This makes it FUN! Plus, as I said, there is an increased level of clarity that comes from sharing, learning, and hearing from like-minded folks who are working through the material together at the same time.

Ensure you are doing it right: Get hands-on coaching and advice from myself (Shawn Blanc) and the members of my team (Isaac, Joanna, Mike).

Focus on the right thing at the right time for you: Before the Academy kicks off, we have a special Assessment for you to fill out in order to help ensure you get the breakthrough and the clarity in the right area(s).
20x More Likely to Get Results
What!? Yep. The American Society of Training and Development states that those who simply decide to do something have a 25% chance of accomplishing it, whereas those who decide when and where they will do something and who also have someone to report back to have a 95% chance of accomplishing their goal.
By combining live training with a community, we have found that people are 20x more likely to see results than if they were do go through a self-guided course on their own.
Simply put: If you want to see results in your life — if you are ready to bring your life into focus — then this is the fastest and most effect next step for you to take. This is "Focus that Sticks."
Get the skills, tools, and direction you need.
You will walk away with clarity on the values that will drive your goals, your time, and even your habits.
Take the guesswork out of goal setting.
Make drastic improvements to your time management.
Restore that much-needed breathing room and margin to your life
Hands-on coaching and accountability from Shawn Blanc and team (in order to help you make sure you get things right).
After attending The Focus Course Academy, you will walk away with clarity on the vision and values for your life and a fresh focus on how you're currently spending your time and energy, what your potential is, and how to apply change and begin making progress.
⚡️ Gain maximum clarity on what matters to you and why.
⚡️ Bring those essential goals and values into alignment with your schedule.
⚡️ Gain the tools and workflows necessary to continually spend your time and attention on the things that matter.
If you are a leader, a creative entrepreneur, a stay-at-home parent, a working parent, a retiree… all of these folks and more have gone through the Focus Course with tremendous results. It's amazing how liberating it is to have clarity on where you want to go and know the necessary steps for how to get there.
---
This workshop was completely life changing. The connection of all of these concepts finally clicked. I can see where and why I have not been successful in following through. Shawn brought it all together with a simply yet profound blueprint to follow and implement. I realized it is in me and this course pulled it out beautifully. I am so excited! — Jennifer Nagaoka
---
Stop Living with the Anxiety and Stress Caused From a Life Without Focus or Margin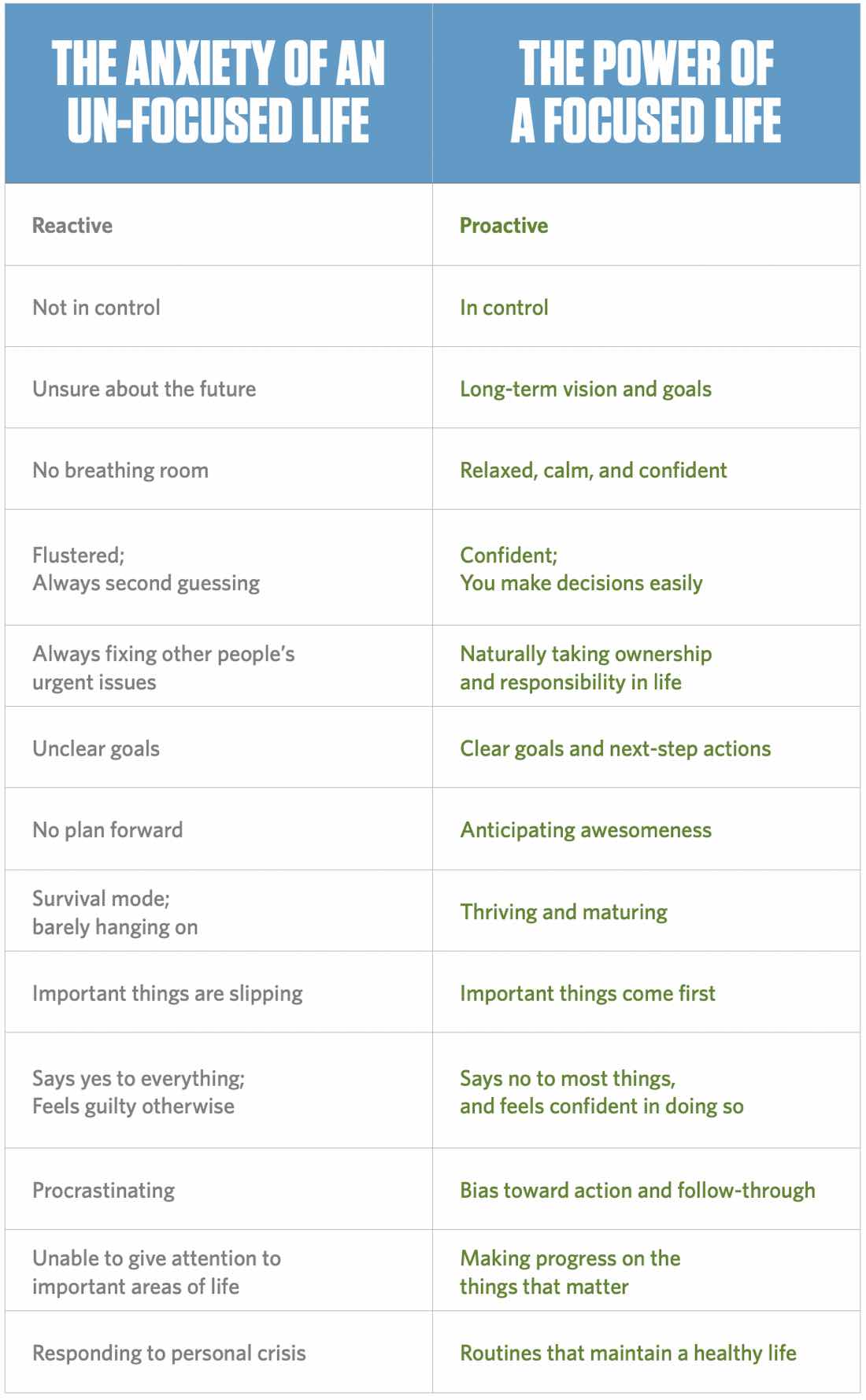 When you're over toward the left on the "un-focused" side of things, you are not in control. This is stressful. You don't feel like there is any breathing room. And you're so frequently responding to the urgent issues of others that you lack any clear plan forward.
But when you are on the "focused" side, you are very much in control. You have clear goals and you have the time and energy you need to meet those goals. You are far less stressed and anxious than your reactive counterpart. You are focused and you are thriving.
Meet Your Hosts: The Focus Course Team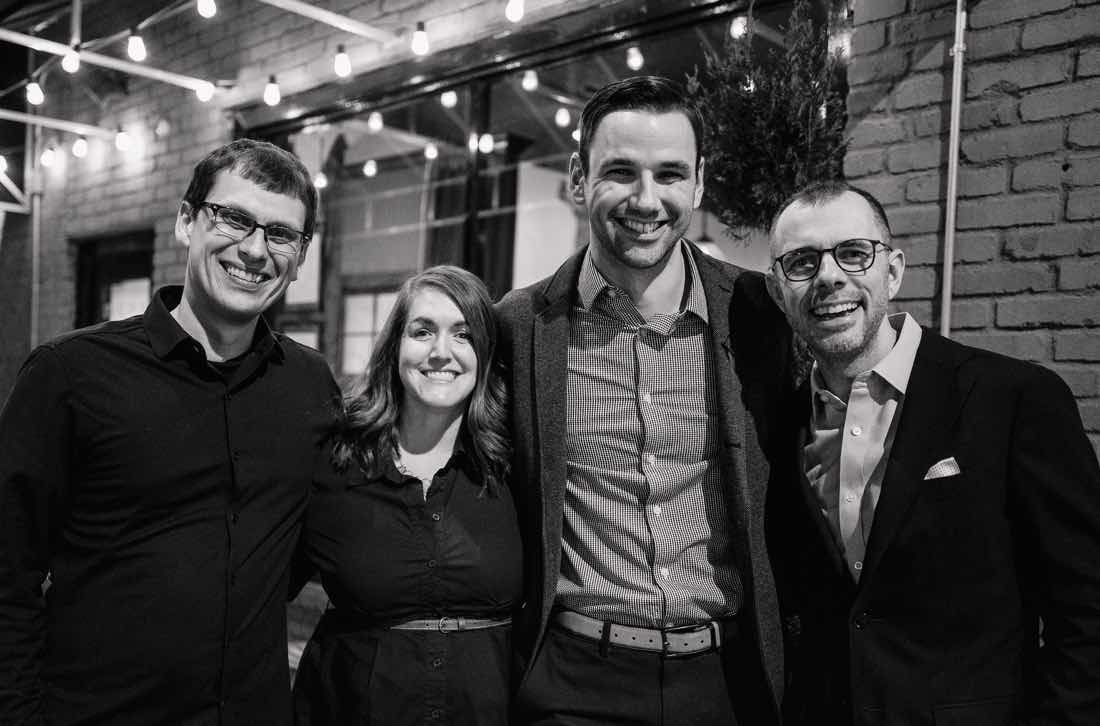 Left to Right: Mike, Joanna, Isaac, and Shawn. We were celebrating the holidays back in 2019 when getting together was a thing.
Meet the team behind the Focus Course!
Shawn Blanc is the creator and founder and will be doing most of the live training for all Academy members.
Isaac Smith, Joanna Eitel, and Mike Schmitz will be running the community Slack, providing coaching, and helping with Q&A.
Why is This a "Beta"?
Because this is our first cohort like this.
We have held "Focus Camps" in the past, and rallied hundreds of alumni to all go through the course at the same time.
We have held Focus Course virtual workshops.
We've done several in-person events.
And we have had thousands of folks sign up for the Focus Course on-demand.
But… new in 2021 is this 4-week Academy cohort. There will be some logistical details that we might be clear on at the beginning. Or the production quality of the videos might be a bit less than perfect.
Based on all our experience of teaching the Focus Course over the years, and based on the feedback from the first Beta Cohort, we know this model is one of the most valuable options for our members: creating the greatest amount of value and return on your time.
---
Schedule
The Academy will be hosted virtually using Zoom and Slack.
During the week of May 3, we will begin the onboarding and preparation for Academy. Then, the Academy will begin with the first live lesson happening on Monday, May 10. We will conclude on Friday, June 4.
Mondays (everyone)
Main, live training session from 3 – 4:30pm EDT
Tuesdays (everyone)
Focus Hour Study Hall. A dedicated time for you to work on the course material.
11:00am EDT and 3pm EDT
Wednesdays (Pro tier only)
Pro Workshops from 3 — 4:00 pm EDT with some Q&A
(See below for the list of workshops)
Thursdays (Pro tier only)
Accelerator Small Groups
Choose either 11:00am EDT or 3pm EDT
Fridays (everyone)
Group Sharing and Q&A Session with Shawn and Team
3:00 – 4:00pm EDT
There will also be daily check-ins on Slack to share what you are learning, and to answer questions you encounter during the week.
---
Is the Academy Right For Me? (and other FAQs)
Q: Will this be recorded? I'm not sure I will be available to attend the live Zoom calls, or go through the work.
A: Yes! We will be recording all of the training calls and workshops. So if you can't make it to some of them, no worries. But if you prefer a self-paced option, then sign up for the Focus Course Premium where all the videos are more bite-sized and on-demand.
The Academy is for those who: (a) want to set aside a few hours per week so that they can ensure they actually go through the material (instead of having access to yet another course that collects digital dust); (b) want to get direct coaching from Shawn and the team to help; and (c) want to have the accountability and motivation that comes from going through the same material with a small community of others for a short period of time.
If those are commitments and benefits that aren't very important to you right now, then no problem! Perhaps you should wait for a future Academy.
—
Q: I've already signed up for the regular Focus Course, should I do the Academy instead?
A: Yes! We think the Academy is one of the most enjoyable and impactful version of the Focus Course we've ever done.
—
Q: Is there an option for additional, personal coaching?
A: Yes. If you're interested in working 1:1 with a member of the Focus Course team to get personalize coaching as you go through the Academy then sign up for the Academy VIP tier. If you want to work directly with Shawn as your Academy Coach, please email desk@blancmedia.org.
Availability for personalized Academy VIP coaching is extremely limited
—
Q: Will the Academy work for me?
A: Perhaps you're not sure if you are the right fit for the Academy. Or perhaps you're not confident that a 4-week program can produce any meaningful results in your life. We totally get it! Of course you want to trust that the investment of your time and your money will be worth it — you want to see a return and results that will last, instead of this being just "one more thing".
We are quite confident that if you show up, then yes, it will work for you. Why? Because the structure we teach is simple enough you can employ it in your day to day life — helping you build lasting habits from the start. And the 5 Components of a Focused Life are things you can use in any season, at any time, to help you self-correct and get back on track.
Moreover, we are confident because of our track record…
—
Q: Is there a refund policy?
A: Yes! Here's how it works: If you attend all the live training sessions (or watch the replays) and you do all the work in the workbook, and yet you still do not believe it was worth your investment then we will offer you a refund.
Due to the nature of the training, and the limited spots we are offering for the Cohort, we will not be offering refunds to folks who change their mind after May 3. Please decide ahead of time if you are willing to participate.
To those who, due to unforeseen circumstances, cannot participate once the Academy has begun, then we fully understand. Please let us know as soon as you are able and we will be glad to give you credit so you can participate in the next Academy.
—
Q: What is my minimum commitment?
A: Your minimum time commitment for Academy is about 2.5 hours per week. You will need to attend the Monday live lesson training (or watch the replay video) and you will need to do the workbook assignments.
Humble Brag
The first beta cohort of Academy, held in February 2021, sold out.
Before that, thousands of people have been through The Focus Course (either online or at our in-person workshops), including teams and companies such as:
ConvertKit
Mission Council
Nine Labs
Bunnell Idea Group
TaxPro Marketer
Samaritan's Ministries
Doxie
Crema Labs
And we have been featured in places such as Inc., Entrepreneur, and Forbes.
After completing the Focus Course…
Our Alumni have a track record of getting the important things done.
Mo Bunnell finally wrote and published his book that he'd been thinking about for years. (Including landing an a-list agent and a national publisher.)

Janette paid off $13,000 of debt in just 8 weeks.

Bob Palacios created a 10-year mind map for his life.

Ross Kimes established an ideal morning routine that he'd been wanting for over three years.
Alumni Testimonials
Shawn's process of defining your life goals is worth the workshop alone! — Travis Hankins
I highly recommend Focus Course Live if you need clarity and focus on your goals and habits. The most impactful session was that on the Ideal Schedule. I realized how much I let others plan my schedule. I have not been intentional with my time. — Bob Palacios
Shawn was so clear and articulate. And the material we went through was so valuable because it is all based on my own value system. It feels so empowering to be able to identify my own values and then be equipped to translate those into all areas of my life, giving me the space and margin to live purposefully! — Mary Beth Mosteller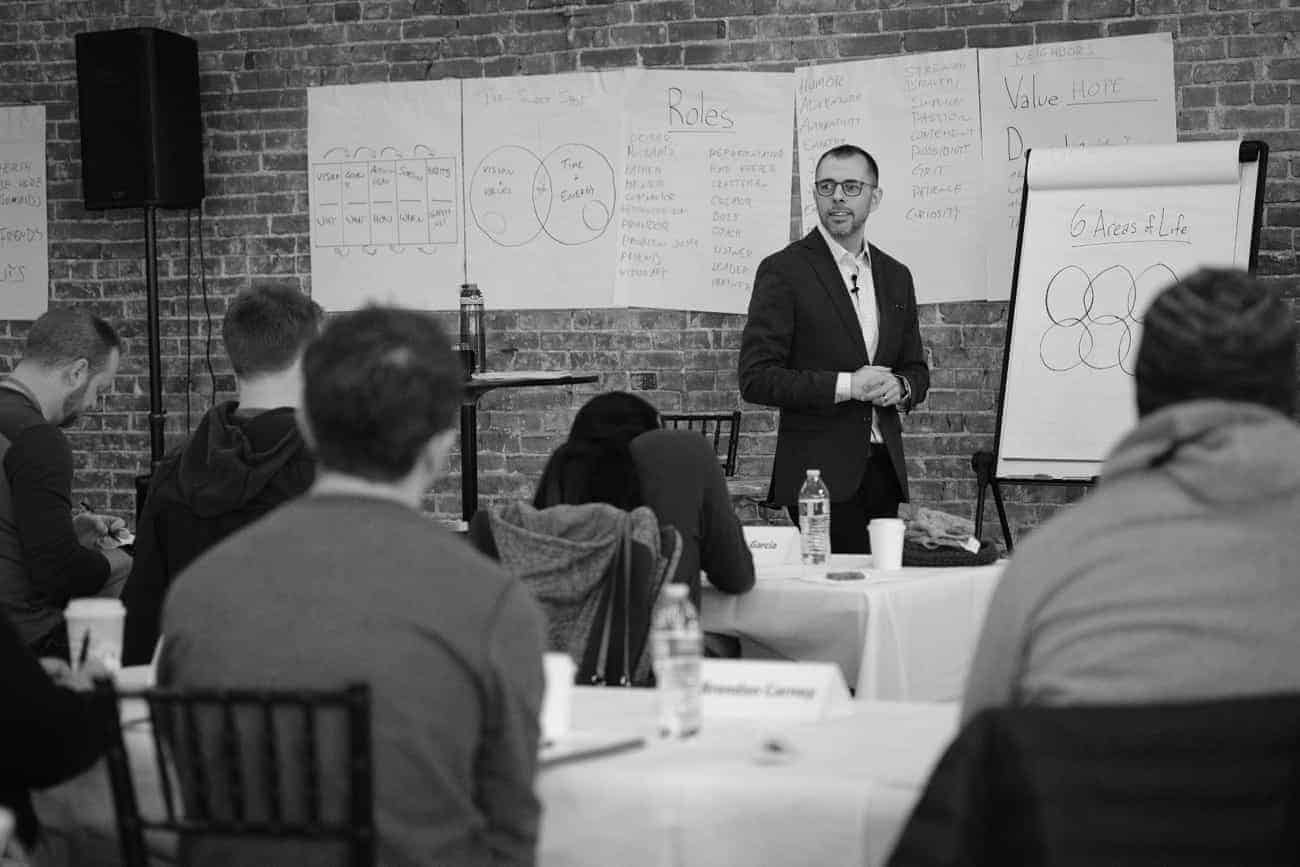 This photo is from one of our in-person workshops. Note that The Focus Course Academy will be hosted virtually on Zoom and Slack.
---
Registration Opens in September
The next Focus Course Academy begins in September 2021. Sign up below to join the waitlist.
What are the Bonus Workshops?
As mentioned above, there will be four additional workshops and interviews for those who sign up to the Academy Pro package.
Note that because this is still a Beta, the exact content of these workshops might change (but we hope not).
⚡️ Focus for Entrepreneurs
Building, running, and leading a business has many unique challenges. You wake up with 100 ideas but you can only pick one. Focus is essential. In this workshop and interview we'll discuss ways to apply the Focus Course to your leadership and your business. You will also get some strategies for how to keep your schedule in a healthy balance so that your work doesn't take over your life.
⚡️ Timeblocking and Time Tracking (TBD)
How to take your time ownership to the next level using our simple time management method for scheduling and even tracking your time. This is, by far and away, one of our most popular topics when going through the Focus Course. By attending this additional bonus workshop, you'll be able to get more training, examples, and help with the time management aspects.
⚡️ Focus and Calm at Work
A look at the 8-week work cycles we do here at Blanc Media, and some examples of how we apply the Focus Course to our company culture. This is great for team leaders, as well as freelancers or anyone else who has some autonomy over their schedule.
⚡️ Margin, Ownership, and Boundaries (TBD)
Without Margin, Ownership, and Boundaries then it will be difficult to lean into, and show up for, your most important roles in life and to live out your values. You will discover more about the MOB throughout the course. And in this special interview we'll dive even more into the specifics for how to establish and maintain your boundaries.
* * *
Still have questions?
Schedule some time to ask any questions about the Focus Course Academy process or experience. As well as the difference between tiers and what is included at each level.
By registering for the Focus Course Academy, you are agreeing to our event terms and conditions.
---